Jerome Deupree: Gear
Drums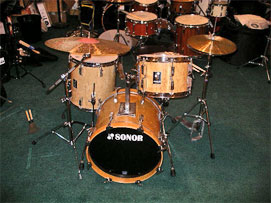 As some of you know, I go by Sonorholic and it's true. A few years ago I decided that the Sonorlites were simply some of the best drums ever made. I have several kits and a set of Phonics too. I first bought a Phonic kit in '79 and have owned several others since. At one point, I bought a set of Sonorlites that had crossed my path three times. These are the drums that are on "Cure for Pain" and some other recordings as well. I sold my original Sonor set to Billy Conway (Morphine, Treat Her Right, Twinemen) and he used it on a lot of his work both live and studio since then. They are great drums and will last forever. For more info, check out Sonormuseum.com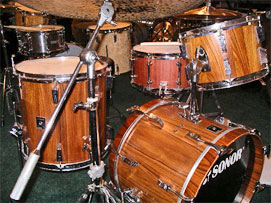 My next favorite drums would probably be TEMPUS, made in Vancouver Canada by Paul Mason. These drums are not super well known, but that's changing all the time. Paul builds drums out of Fiberglass, Carbon Fiber, and Kevlar/Carbon fiber. They are all wonderful sounding and very strong drums. There are some pictures of the set in the studio with Bourbon Princess. I could rave more, but you might as well check out his web page for the full story.
I also have a set of Gretsch that I came across in NYC. I was playing a gig at CBGB's and the house kit was a stop sign badge 18, 12, 14, with a matching snare. The thing that really drew my attention was the Sonor Phonic tom holder and spurs. These were done when the kit was new and when I saw that, I HAD to have them. Playing them was a dream and I told the owner that if he ever wanted to sell them, please call me first! It took a month or so, but it did happen. This is a very special kit that I will treasure forever.
Next up is a set of Gaither drums. These are made by Matt Gaither in Philadelphia, PA, and are some very unique instruments. I had originally gotten a snare drum on Ebay, and was very intrigued by it. I found the other drums in NYC and bought them. After a while I decided the drums were a little too specialized and decided to sell them… well I couldn't. Not for lack of trying mind you. They sat in two different stores and while there was interest, never sold. In 2006 I attended the Chicago Vintage show and actually met Matt. I was looking through a photo book of his stuff and came across my kit. He told me those were the first drums he'd ever made!! I didn't say anything, but right when I got home I went and got them from the store. I guess these were drums that I was meant to own!
I've owned drums from just about every major company out there and these are what work for me. I'm always interested in finding other great stuff, but these days I find myself drawn to older drums, at least the wood ones!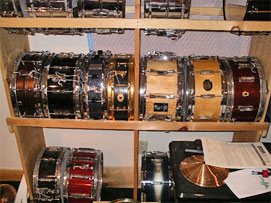 I have a bit of a snare collection as well. I play everything I own and I don't really have a special slant to my collecting. I just try to find great drums and if they happen to be a little on the rare side, so much the better. I may do a total list but you can see a bunch of them in the photos.
Cymbals
My first "real" cymbal was an 18" Paiste 602 Medium that I still have. These were being sold through Ludwig at the time, and it was probably just the sales person that pointed me to them. I later bought a set from my older brother and the cymbals were mostly Zildjian with one 20" thin 602. I cracked this cymbal after a few years and then dropped a brick on it, trying to get a "china" sound. I quickly learned just how fragile it really was. D'OH!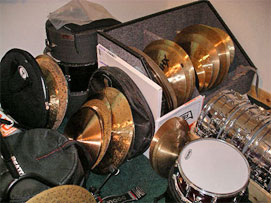 While I had some nice Zildjians (22" ride and 15" New Beats) I didn't really have a crash cymbal. I ended up with a 16" Paiste 2002 and was off. That orange set up book became my bible, and I quickly bought a whole set of 2002's. These were new in the states at that point (late 70's) and I just loved the sound. I played them up until the mid 80's when my ear changed and I started wanting darker cymbals. Sabian HH and K Zildjians followed and it's been a bit of a mish-mash ever since. When Paiste brought out the Traditional series, I flipped for them and am now back to playing more Paiste than anything else, but that is changing as I type and will no doubt continue to do so. I try to just let my ear be my guide and use whatever sounds good.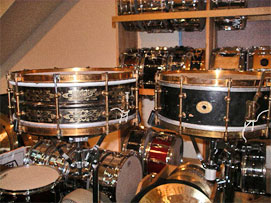 Gear On Recordings
… OK, here we go folks. This is the wing nuts and bolts portion of the program. I get a lot of questions about what I've used on certain CDs and so to the best of my ability (and fading memory) I'll try and list all the gear used.
Morphine: "Good"
The drums were mostly Yamaha, recording series. 20" or 22" bass drum, 8x10, 8x12 rack toms, and a 14x14 floor tom. Snares were either a N&C classic or Ludwig 70's Black Beauty. Both these were 5x14. Heads were Remo Legacy on the toms with coated Ambassadors underneath. Bass drum was probably a clear Emperor or Pinstripe. Most likely, coated Ambassadors on the snares.
Cymbals were very minimal. I had two Zildjian 12" EFX's for hats. An 8" splash over a 12" china stack and a 10" Istanbul splash.
Morphine: "Cure for Pain"
These were the Sonorlites, 16x20 bass, 9x10, 10x12 toms, and 15x14 floor tom. The snare was a 6.5x14 GMS Grand Master on all tracks. Heads were Remo clear ambassadors on the toms (both sides) Clear Ambassador on the kick with an Evans EQ 3 front head. The snare was muffled slightly. The toms were wide open, but tuned pretty low, and the kick probably had an Evans pillow in it.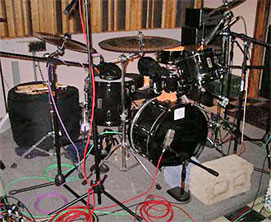 Cymbals were Zildjian. 13" K- hats, 20" K Dry Light (pre-aged) ride and a 19 Brilliant K china with an 8" A splash under it (right side up) just to dry it out a little. On some tracks I added a 10" K splash and/or 18" A Custom crash.
Merrie Amsterburg: "Season of Rain"
… This was a very special session. I wish I'd taken pictures in the studio. The kit was mostly made up of frame drums and tambourines. I had a 22" Remo frame drums set up as a bass drum and some LP Pandieros for toms. The snare was a N&C thin maple ply shell with Ludwig hardware. I don't remember the cymbals, but chances are they were all pretty wild sounding and small.
Bourbon Princess: "Black Feather Wings" & "Dark of Days"
On both CDs, the drums have been a mix of Tempus and Sonor depending on the session. The main kit was usually 20, 12, 14, but the Sonor kit may have had an 18" bass drum instead. Snares were most likely from those two brands as well as whatever was in rotation at the time. Cymbals were most likely Paiste, but on "Black Feather Wings" were probably more of a mix of different brands. Funny how I remember less about the more recent recordings, huh! Getting old does have some benefits I guess.
So that's it for now. I'll probably weigh in more on the gear thing as I go along. If you have any questions feel free to contact me. There may also be a place here at the web page for that in the future.